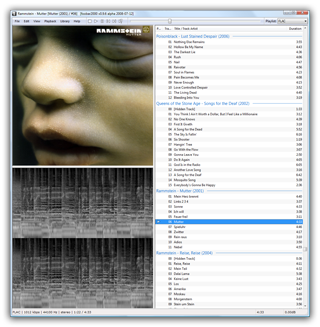 foobar2000 is an advanced freeware audio player for the Windows platform.
Latest news
2020-09-25
New releases:
foobar2000 v1.6.1 has been released.
Download...
2020-09-02
New releases:
foobar2000 v1.6 - new stable version for everyone.
foobar2000 v1.6.1 beta - preview of new features, including support for HLS inernet radio.
foobar2000 v1.5.6 - bugfix update for Windows XP users.
2020-06-29
New releases:
foobar2000 v1.5.5 - bugfix update for most users.
foobar2000 v1.6 beta - preview of upcoming features, with new audio output code optimized for modern computers.
foobar2000 mobile v1.2.6 - bug fix update will soon be available on iOS and Android. You can install it from APK already.
foobar2000 for Mac v2.2.6.
The new revision of AAC audio codec, xHE-AAC, is now supported on iOS and Mac OS through system codecs.
advertisement

PerfectTUNES

a helping hand for your audio collection


Add or upgrade Album Art, De-Dup and check for ripping errors

dBpoweramp CD Ripper

CD ripping taken seriously


Secure Ripping from the inventors of AccurateRip, fast & bit-perfect CD ripping

dBpoweramp mp3 Converter

music conversion perfected


Trusted by 30 million people, easy conversion between audio formats
Main features
Supported audio formats: MP3, MP4, AAC, CD Audio, WMA, Vorbis, Opus, FLAC, WavPack, WAV, AIFF, Musepack, Speex, AU, SND... and more with additional components.
Gapless playback.
Advanced tagging capabilities.
Support for ripping Audio CDs as well as transcoding all supported audio formats using the Converter component.
Full ReplayGain support.
Customizable keyboard shortcuts.
Open component architecture allowing third-party developers to extend functionality of the player.