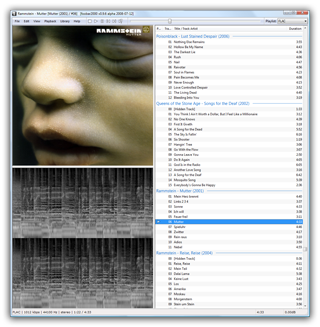 foobar2000 is an advanced freeware audio player for the Windows platform.
Latest news
2016-05-10
foobar2000 mobile
free preview has been released - for iOS, Android and Windows 10.
2016-04-04
Regarding Microsoft SmartScreen errors while downloading foobar2000 installers:
For reasons understood only by Microsoft, our digital signature is now rejected by SmartScreen - even though other
Windows
components
show that the file is signed correctly.
Effective now we quit using digital signatures on our installers.
Read full notice
2016-03-25
foobar2000 1.3.10 has been released.
Download...
2016-03-17
foobar2000 1.3.10 beta 2 has been released. 1.3.9 and 1.3.10 beta 1 fixes for Windows shell interaction have all been
reverted due to unwanted side effects
.
Download...
advertisement

dBpoweramp mp3 Converter

music conversion perfected


Trusted by 30 million people, easy conversion between audio formats

PerfectTUNES

a helping hand for your audio collection


Add or upgrade Album Art, De-Dup and check for ripping errors

dBpoweramp CD Ripper

CD ripping taken seriously


Secure Ripping from the inventors of AccurateRip, fast & bit-perfect CD ripping
Support foobar2000
Main features
Supported audio formats: MP3, MP4, AAC, CD Audio, WMA, Vorbis, Opus, FLAC, WavPack, WAV, AIFF, Musepack, Speex, AU, SND... and more with additional components.
Gapless playback.
Advanced tagging capabilities.
Support for ripping Audio CDs as well as transcoding all supported audio formats using the Converter component.
Full ReplayGain support.
Customizable keyboard shortcuts.
Open component architecture allowing third-party developers to extend functionality of the player.