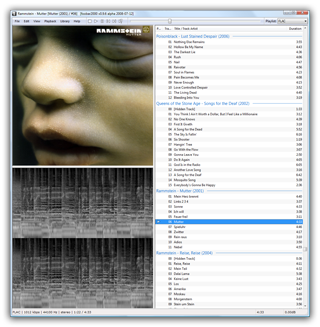 foobar2000 is an advanced freeware audio player for the Windows platform.
Latest news
2013-12-06
Free Encoder Pack
has been updated with Opus 1.1 encoder.
2013-12-05
foobar2000 v1.3 beta 6 has been released.
Bugs fixed: slow startup with unreachable network shares in Media Library folders, configuration save failure when the same folder added to the Media Library more than once.
Download...
2013-11-07
foobar2000 v1.3 beta 5 has been released.
More bugs have been fixed; default settings for the large metadata field handling feature have been relaxed; FFmpeg has been updated to the latest version (2.1).
Download...
Support foobar2000
Main features
Supported audio formats: MP3, MP4, AAC, CD Audio, WMA, Vorbis, Opus, FLAC, WavPack, WAV, AIFF, Musepack, Speex, AU, SND... and more with additional components.
Gapless playback.
Advanced tagging capabilities.
Support for ripping Audio CDs as well as transcoding all supported audio formats using the Converter component.
Full ReplayGain support.
Customizable keyboard shortcuts.
Open component architecture allowing third-party developers to extend functionality of the player.