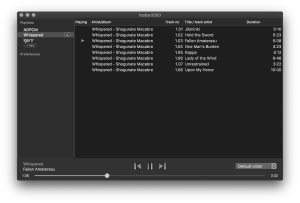 Download foobar2000 for Mac
This application is provided as-is. It is by no means complete, though most of the features implemented are known to work reasonably well.
Current version
foobar2000 for Mac, v2.2.18
System requirements
Mac OS 10.11 "El Capitan" or newer.
Change log
Read change log...
Old versions
Old releases compatible with Mac OS 10.9 "Mavericks" and Mac OS 10.9 "Yosemite" are available in
old foobar2000 versions archive
.